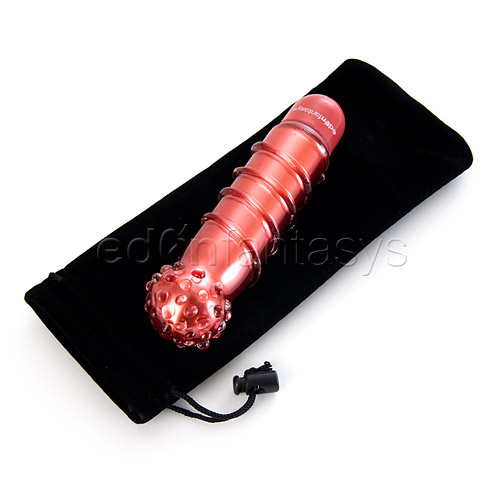 Ok first toy review is for a glass vibrator. One called
KISSA
offered by
Eden Fantasys
.
KISSA
is 5.75 inches long, with 5 inches that are insertable, has a bulbous head, and is textured. It is tempered glass over a plastic "base", and only requires 1 (that's right ONE) AA battery. Despite what you may be thinking, one battery actually works for this squat vibe.
One thing about this vibe is that it has three settings that are easily controllable. The low setting is perfect for those who don't need very much stimulation. Personally, I was hoping for a bit more stimulation/strength than the highest setting offered. Now don't get me wrong- this is a good vibe, and can give me some good orgasms, BUT this is not a "quickie" orgasm. This is for what I call leisure play. While it can "do the job" and give you satisfaction, personally the setting are low enough that it is a lingering orgasm instead of a racing one.
Ok down to the nitty-gritty (just because I know you are wondering when we will get there, lol). Would I suggest
KISSA
? Yes, yes I would. It is squat, but has a good thickness. The head's shape ensures that you feel the texture, even on the low setting. It is easy to clean when done playing- the glass is extremely easy to sanitize. Because of the tempered glass you can utilize temperature play—using warm/icy water—when using this toy, to enhance sensations.
While I would not suggest using this as an anal toy, because of no added grip at the base, you know to ensure it doesn't get "sucked into the black hole" it is good for vaginal play, light clit/nipple stimulation, as well as partner play. I would not suggest taking this toy with you to the office to get a little forbidden time in, however. There is no "stealth" mode- and despite the fantasies we may have about office play, would you really want to get caught by your boss or secretary? BUT- if you are going on a trip- either business or personal- with the "little black bag" that comes with
KISSA
, you can definitely take it with you for those alone times. ;)